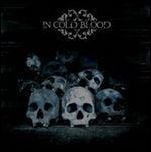 €

5.00 - On Sale
1. Hold My Own
2. Under Concrete
3. No Sun
4. Unblind Eyes
5. Burn It Down
6. Age Of Destruction
Metal Underground review by EdgeoftheWorld:
4 skulls -- Excellent (An excellent effort worth picking up)
On their self-titled demo EP, In Cold Blood serves up some pleasantly technical metalcore that warm-blooded fans of the genre will enthusiastically embrace. The six songs are jam-packed with guttural growls, intricate guitar work and tempo twists and turns.
This Italian band has chops to spare, with guitarists Vito and Nicolo playing some pleasantly contrasting stuff on the disc's best track, "Unblind Eyes," which is also the track that makes the best use of the band's DJ, Giuseppe's turntable work. I loved the way the lead guitar blazed first in a distorted solo, and then in a quiet, clean tone, through the song near the middle.
Drummer Niccolo (note the two c's) is also quite masterful, easing the listener into the time changes in songs like "Under Concrete." He also delivers some excellent fills in the closing track, "Age Of Destruction."
Fulvio, who sings and plays bass, has some interesting moments at the beginning of "Burn It Down." I do wish he'd have tried to incorporate some clean vocals, as all of the shouting does get a little old sometimes, but with just 24 minutes of material, that's not the huge concern it could be on a full-length album.
The production on this 2008 disc is good, with Fulvio's bass getting a chance to add some weight. With such crisp, clear sound, it's quite easy to appreciate the distinction between what the guitar players are playing.
In Cold Blood's self-titled EP is a bloody good disc that will please fans of bands like Killswitch Engage and Shadows Fall. Here's hoping that, since the band's discovery by the Italian Videoradio label this year, that a full-length disc isn't too far off.
Highs: "Unblind Eyes" and "Under Concrete" are standouts on a good album.
Lows: The band could use a little more vocal variety.
Bottom line: A solid metalcore disc that is hopefully a harbinger of good things to come from this Italian band.
buy tees on IN COLD BLOOD merch